Harrogate power cut hits first night of Sleeping Beauty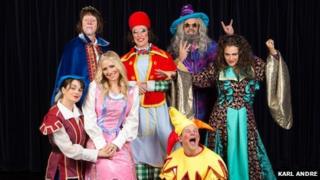 A power cut forced a theatre in North Yorkshire to abandon the first night of its annual pantomime.
Harrogate Theatre said the power went out on Friday evening just after the beginning of the second act of Sleeping Beauty.
All power to the auditorium and stage area was lost forcing the cancellation of the remainder of the show, just after 20:00 GMT.
Northern Powergrid said power was restored to the area at 23:30.
The theatre said audience members would be offered alternative tickets or a full refund.
Phil Lowe, the show's director, said: "It was completely out of our hands and unfortunately we just had to cancel but a big thanks to everyone who came out and were so understanding."
Chris Clarkson, who plays Dame Nannie Annie Nidderdale, said: "The audience went and had a free drink in the bar and we all went and sat in our dressing rooms in the dark.
"We waited 20 minutes in the hope it would be resurrected but it wasn't. The audience were so chipper about it, no-one complained."