Lives 'in peril' by Yorkshire Dales winter roadworks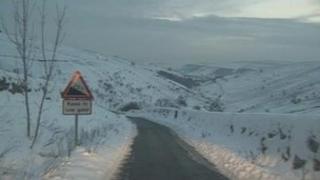 People in remote communities in the Yorkshire Dales could have their lives put at risk by roadworks ahead of the Tour De France, it has been claimed.
The main road out of Swaledale will be shut for 12 weeks from February so North Yorkshire County Council can do "vital" work before the July event.
People will have to use a diversion route 1,400 ft above sea level, which is often hit by severe winter weather.
Upper Dales councillor John Blackie said lives were being "put in peril".
He said: "There will be 1,500 people in peril of being cut off from their lifeline roads to use high moorland routes going over the fells to get to the services they need."
Mr Blackie said doctors and police had expressed concerns to the authority about carrying out work in the winter where the diversion routes are often hit by heavy snowfall.
"I am very, very worried for all those I represent," he said.
"I can assure you the GPs are worried, the police are worried that there will be emergency situations where people's lives will be put in peril."
Nigel Smith, from North Yorkshire County Council, said the repairs could not wait because the roads could deteriorate further.
He said: "We've already got plans in place to cover those diversion routes, essentially the winter maintenance regime that we have on the diversion routes so they will be afforded the same level of maintenance and treatment."
The first day of the Tour will start in Leeds on 5 July, taking riders through the Yorkshire Dales to Harrogate.
Day two will start in York and end in Sheffield before moving south for the third stage from Cambridge to London, where it finishes.