Leeds man arrested over Knaresborough bomb hoax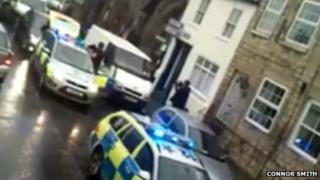 A second man has been arrested over a hoax bomb threat that brought a North Yorkshire town to a standstill.
Knaresborough High Street was closed for about four hours on 16 October when armed police responded to what they believed was an "immediate threat".
Police said a "malicious hoax call" was focused on a pizza takeaway.
A 22-year-old man from Leeds has been questioned and released on bail. A 21-year-old man arrested last month is due to answer bail in January.