Michael Bennison jailed for stabbing woman in York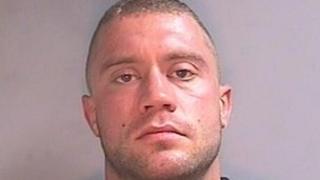 A man who was due to stand trial for the attempted murder of his on-off girlfriend has been jailed for a lesser charge after vital evidence was lost.
Michael Bennison, 29, pleaded guilty last month to the unlawful wounding of the 27-year-old woman who was stabbed six times in York in December.
Prosecutors accepted the plea as DNA swabs from a knife had been lost by forensic teams.
Bennison was jailed for four years at Newcastle Crown Court on Wednesday.
The court heard that on 14 December he had been travelling in a car with a man and the female victim, with whom he had been in a volatile, on-off relationship.
'Internal review'
Nick Adlington, prosecuting, said an argument broke out in the car, and when they arrived at their destination in Healey Grove they got out and the woman produced a knife.
The court heard Bennison took the knife from her and stabbed her six times; once in the side and five times in the back.
Last month the Crown Prosecution Service said it had "fully expected to have the forensic analysis of the knife [at court] so we would be able to pursue the charge of attempted murder".
"Of course, we are disappointed to find that evidence is not available. On this basis, we accepted a guilty plea of unlawful wounding."
Mr Adlington said on Wednesday: "The swabs went missing from the forensic science service in York.
"I have been told there has been a full internal review."
Sentencing Bennison, Mr Justice Ramsey said: "Originally you faced a charge of attempted murder but because vital evidence had been lost a plea to section 20 was accepted."
The judge added: "You pose a high risk of harm to the victim and to all women.
"There was an intention to commit serious harm."
The court heard Bennison had previously appeared in court 14 times in relation to 27 offences.