Pay-as-you electric vehicle plugs installed across York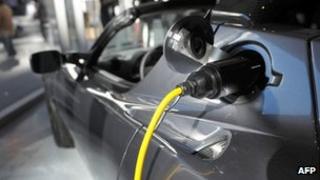 A network of pay-as-you go electric vehicle charging points has been installed in York.
The plugs have been put in by the City of York Council in two city centre car parks and three park-and-ride sites.
Each of the six new charging points allow two electric vehicles to top up their batteries at the same time.
Councillor Dave Merrett said the network signalled an "important step" towards improving air quality and and reducing the city's carbon footprint.
The fast-charging points have been installed at Union Terrace and Nunnery Lane car parks and Monks Cross, Grimston Bar and Designer Outlet park-and-ride sites in addition to 12 charging points already across York.
The new pay-as-you-go system costs 50p per hour plus a 30p transaction fee and can be paid either by phone or text.
Charging points are operated via a smartphone app, swipecard or by phone.
Four more charging points are due to be installed in the coming months in three additional locations.