Scarborough Athletic FC 'could return home'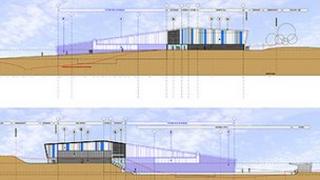 Scarborough's exiled football club could return to the town after plans for a sports village were approved.
The scheme includes a new ground for Scarborough Athletic FC and an Olympic-sized swimming pool.
Scarborough Council is funding the scheme through the sale of land, grants and borrowing.
The council said as part of the new development it would also review whether to keep its leisure services under council management.
A partnership with a specialist operator or sport and leisure trust could bring greater benefits, the council said.
The sports village will be located on land in the Weaponness area, and will replace the existing Scarborough Sports Centre near Filey Road.
'Best possible route'
Scarborough Athletic, who are in the Northern Premier League, currently play their home games in Bridlington, 20 miles (32km) down the coast and the town has been without a football ground since the McCain Stadium was demolished in 2011.
Dave Holland, chairman of Scarborough Athletic, said he was confident the new centre was "the best possible route" for the club to return home.
"We're hopeful that we can now finalise the practical details that will ensure a sustainable return to Scarborough for our successful community football club," he said.
"The light at the end of the tunnel is getting brighter all the time."
Land will also be sold at the former Scarborough FC ground on Seamer Road, and at the site of the existing Filey Road sports centre.
Additional land at Weaponness which will not be needed for the leisure development - such as the former park and ride car park - will also be sold to raise funds.