Futurist theatre campaigners hand over 4,000 signatures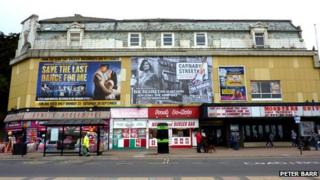 A petition of more than 4,000 signatures has been handed to a council to save a seaside theatre.
The Futurist theatre on Foreshore Road, Scarborough, had an "unsustainable" future, a council report in July said.
Patricia David, of the Save the Futurist campaign, said the petition would be presented by people whose businesses would be affected.
The theatre stages concerts, shows and films but is located within an area earmarked for redevelopment.
It was built in 1921 and was bought by Scarborough Council in 1985. It has been leased to its current operators since 2002.
Stars to have performed there include The Beatles, Morecambe and Wise, Shirley Bassey and Ken Dodd.
'Kiss goodbye'
Ms David said: "Scarborough has such a heritage of entertainment dating back to [stage and film actor] Charles Laughton 100 years ago.
"The Futurist is sustainable if run properly, but the council have made it unsustainable.
"No other theatre can do what the Futurist does - if it closed we could kiss goodbye to touring shows and musicals."
In July, the council agreed to begin negotiations with the current operators about keeping the theatre open until the end of the year.
The council, which pays tens of thousands of pounds a year to subsidize the theatre, said a decision had not yet been made about the long-term future.
However one of the options in a development plan for the area, agreed in August 2012, included "a new smaller theatre".
The redevelopment area is a site of 4.2 acres (1.7 hectares) stretching from the town hall on St Nicholas Street, through King Street car park and the Futurist, along Foreshore Road.