Scarborough's local TV licence awarded to Estuary TV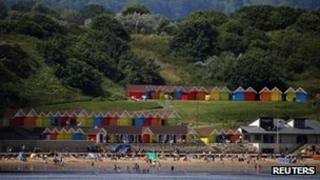 A new local TV station in Scarborough is to be run by the same company that will begin broadcasting in Grimsby next month.
Ofcom has awarded the North Yorkshire town's local TV licence to Estuary TV.
The company said the channel would be called Yorkshire Coast TV and could begin broadcasting to more than 30,000 people in September next year.
Estuary TV's Grimsby station will be the first of the new local TV stations to launch on 26 November.
Executive producer Lia Nici said Yorkshire Coast TV would "showcase the great things the area has to offer".
"This is a great opportunity for people of Scarborough to engage with us," Ms Nici said.
"We also want industry to see the benefits of having a local channel and realise that advertising locally is affordable too."
The company plans to broadcast daily news bulletins and a range of locally produced programmes.