Claudia Lawrence disappearance: Major crime unit searches home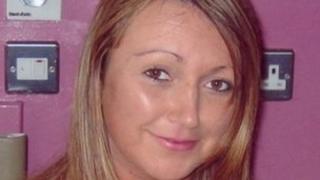 The home of missing York chef Claudia Lawrence is being searched by police as they review the investigation into her four-year disappearance.
Miss Lawrence was last seen on 18 March 2009, when she was aged 35. Detectives believe she was murdered.
North Yorkshire Police's new major crime unit is assessing the case and is carrying out new forensic work and searches at her home on Heworth Road.
Teams will be working at the house for about two weeks, the force said.
'No smoking gun'
Det Supt Dai Malyn, head of the major crime unit, said: "There's no new smoking gun or startling piece of evidence. I wouldn't want people to believe that's the case.
"This is just part of the review process."
He said: "Most cold case review work considers forensic re-evaluation as techniques advance and this case is no different.
"I am also mindful that, at some point in the future, the house may become re-occupied and these opportunities would otherwise be lost."
The detective said there was nothing in Miss Lawrence's home that prompted the decision to search it again.
"Originally the house was tidy and didn't appear to have any sign of disturbance," he said.
"But that's not to say you can't do something in a house then tidy it up to make it look as if everything was ordinary. These are the things that we'll be looking at."
'Never too late'
Despite a high-profile investigation by North Yorkshire Police involving up to 100 officers, no trace of Miss Lawrence has ever been found.
Detectives have said in the past that they believe the key to the inquiry is Claudia's relationships with a number of men - relationships a previous head of the inquiry described as having an "element of complexity and mystery to them".
Mr Malyn said it was "never too late" for anyone with information about Miss Lawrence's disappearance to come forward.
He said: "As ever, we will afford anyone who contacts us our full attention if they think they have information which could assist, no matter how small or irrelevant they think that information might be."
Miss Lawrence's father Peter said: "Advances in forensic science and testing in the past four years make this a very worthwhile exercise, and anything which helps the search to find Claudia, or at least find out what happened to her on that morning in March 2009, is welcomed."