Tribute paid to dead East Yorkshire test crew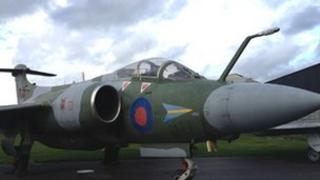 Four crew members who died testing an East Yorkshire built aircraft have been commemorated at a special service.
The crew died during the development of the Blackburn Buccaneer strike aircraft which was built at Brough in the 1960s.
The service took place at the Yorkshire Air Museum at Elvington near York to mark the donation of a Buccaneer aircraft to the collection.
The plane was formerly on display as a "gate guardian" outside the BAE Systems factory in Brough.
The service was attended by relatives of the men who died as well as the family of Robert Blackburn, who founded the aircraft company at Brough in 1914.
The deaths occurred in three separate incidents between 1959 and 1963 as the aircraft was being tested ready for military service.
'Fantastic aircraft'
The first fatality was of observer John Joyce who died in the first test aircraft to fly.
Another person was killed during sea trials on an aircraft carrier in 1961, along with the Royal Navy pilot.
Two members of staff died in February 1963 following an accident at the Blackburn Aircraft Company's airfield ay Holme-on-Spalding-Moor in East Yorkshire.
The aircraft stood outside the Brough factory for almost 20 years until a redevelopment of the site forced its removal.
Brough site director Dave Corfield said BAE Systems had produced a new dedication plaque to mark the aircraft's move to its new location.
Mr Corfield said: "Due to the recent changes at Brough, we agreed to donate the airframe to the Yorkshire Air Museum to add to its superb collection.
"It is fitting that not only the Blackburn family, who remain huge supporters of BAE Systems, but also relatives of those aircrew members who gave their lives in creating a fantastic aircraft, will be present for the re-dedication service."