Murder victim Caroline Stuttle's travel safety app 'legacy'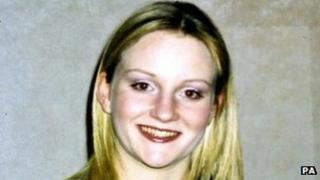 A new app aimed at keeping travellers safe has been released by a charity set up in memory of murdered backpacker Caroline Stuttle.
The 19-year-old student from York was robbed and pushed off a bridge in Bundaberg, Australia, in April 2002.
Created by a foundation set up in her memory, the app provides safety advice and city information for more than 250 countries.
Richard Stuttle said he hoped people could learn from his sister's legacy.
Mr Stuttle, the founder and director of Caroline's Rainbow Foundation (CRF), said: "The app will be a useful tool for travellers in their adventures by providing more information about the destinations to which they travel.
"We feel that through knowledge and raised awareness come safety and happy travels.
"Our main aim is to provide information that allows users to make informed choices and ultimately to stay safe."
First-hand insight
The app, which is available for the iPhone and iPad, has been developed with the help of students from York St John University.
Mr Stuttle added: "The app combines the knowledge and experiences of students and travellers from all over the world, giving valuable first-hand information and insight from people who have visited or come from a destination.
"Ultimately we want to cover every travel destination around the world."
Drug addict Ian Previte was jailed for life in 2004 after being found guilty of murdering Miss Stuttle.
He was told he must serve a minimum of 15 years before being eligible for release.