York Racecourse may face retrial over Ruby Milnes death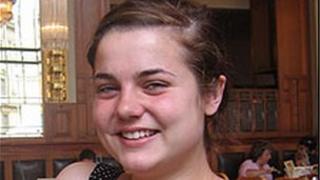 York Racecourse could face a retrial over alleged safety breaches which may have led to a cyclist's death after a jury failed to reach a verdict.
Ruby Milnes, 17, died when she collided with a lorry whilst using a cycle path to cross the course in May 2008.
York Racecourse Knavesmire LLP faced two charges of breaching safety rules in a Health and Safety Executive (HSE) prosecution at York Crown Court.
The HSE said it had not made a decision on whether it would pursue a retrial.
'Hugely disappointed'
A spokesman for the organisation said the HSE was "disappointed that a verdict was not reached".
"We recognise that Ruby's family will be saddened by the absence of a conclusion.
"HSE will be considering the position together with our legal team before making any further decision."
Miss Milnes was the eldest of five brothers and sisters.
Her family said after the trial that they were "hugely disappointed the jury couldn't reach a verdict".
"Ruby's younger brothers and sisters have grown up in the shadow of this tragedy and with this case always looming.
"We'd looked forward to finally being able to put it behind us."