Craig Gill of Upper Poppleton jailed for stabbing his father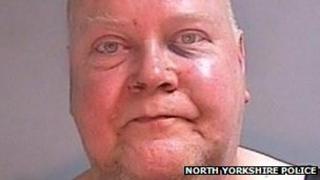 A 57-year-old man who stabbed his father at their home near York has been jailed for 10 years.
Craig Gill, of Chantry Avenue, Upper Poppleton, stabbed Eldon Gill, 82, in the chest with a kitchen knife on the night of 6 April.
Mr Gill was taken to hospital with a lacerated lung and head injury and was critically ill for several weeks.
Gill pleaded guilty at York Crown Court to wounding with intent to cause grievous bodily harm.
A charge of attempted murder, which he denied, was dropped by the prosecution.
Det Sgt Mandy Grundy said: "This was a difficult case for everyone concerned and involved close members of the same family - both victim and offender.
"The assault upon an elderly man by his own son involving the use of a knife could only have resulted in serious injury or harm to the victim."