Thousands ignore York Lendal bridge vehicle ban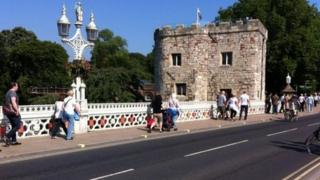 Nearly 2,000 vehicles a week have been illegally crossing a bridge in York that has been partially closed to traffic.
Private vehicles were banned on Lendal Bridge between 10:30 and 17:00 from 27 August for a six-month period.
Drivers who cross during the restricted hours face fines of up to £60.
The Labour-run authority insists the closure is needed to reduce congestion in the city centre and said the ban had "improved" traffic flow.
Deputy leader of the council, Tracey Simpson-Laing, said: "People are saying they enjoy walking through the city much more [now] we don't have cars and lorries snarling up on this bridge.
"Once people get used to it they will see the benefits."
The decision to close the bridge for a trial period has been criticised by organisations such as the North Yorkshire branch of the Federation of Small Businesses.
It warned the ban would simply move congestion to other parts of the city centre.
The council previously said penalty charge notices (PCN) issued to the 1,000 non-authorised vehicles that had crossed the bridge each day for the first week of the trial would be waived.
Since then, about 1,800 PCNs had been issued each week, the council confirmed.
It pointed out that the figure did not take into account the number of drivers who might successfully appeal against a PCN.