Northallerton taskforce to tackle job losses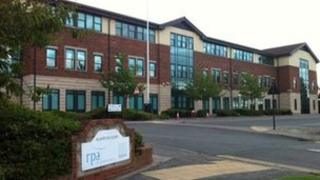 A taskforce has been created to try and help people facing redundancy in a North Yorkshire town.
About 500 public sector jobs are being cut with the closure of Northallerton's prison and rural payments agency office.
The taskforce said it would work to connect local employers with those facing redundancy.
Run by the local enterprise partnership (LEP) it will also offer help to create new businesses and provide training.
David Kerfoot, chair of the taskforce, said "It is vital that we act now to support those at risk.
"The rural payments office (RPA) and the prison have provided Northallerton with an exceptionally skilled and motivated workforce that any employer would be proud to take on."
The closure of the prison with the loss of 135 jobs is part of a Ministry of Justice programme announced in September.
It came after the government also announced it was closing the town's RPA office which employs about 350 people.
Staff at the RPA would be offered the chance to relocate to either York or Newcastle, the government said.
The town mayor, John Forrest, said the job losses would have a severe impact on the town's economy.