Knaresborough campaign for Mother Shipton statue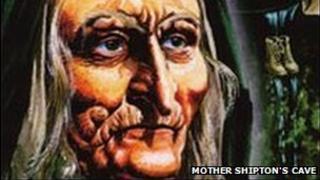 A £35,000 fundraising campaign has been launched to create a statue of a 15th Century witch in the North Yorkshire town where she was born.
Legend has it that prophetess Mother Shipton was born in a cave by the River Nidd in Knaresborough in 1488.
She is said to have predicted events such as the Great Fire of London and the defeat of the Spanish Armada.
Local entrepreneur Terry Maude wants her to be immortalised with a sculpture in the town's market place.
He previously led fundraising efforts for a brass sculpture of 18th Century road builder John Metcalfe, otherwise known as Blind Jack, which was put up in 2009.
It took two years to raise £30,000 for the sculpture created by artist Barbara Asquith.
The fundraising group ended up with more money than they needed and put the remainder towards other community projects.
'A real woman'
"We had a fantastic time raising money for Blind Jack," Mr Maude said.
"We excelled ourselves and raised more than we needed, and we're looking to do the same for Mother Shipton.
"Next year we've got the Tour de France coming through in July, and the plan is to unveil Mother Shipton seated in the market place at a right angle to Blind Jack, so he's not lonely, at the end of June.
"The expected cost is £35,000."
At a meeting earlier this year Knaresborough Town Council members unanimously backed the plan.
Sculptor Christopher Kelly, who has been working on a design, said: "I'm hoping to make her into a real person that you can relate to, a real woman rather than some kind of witch."
The second stage of the Tour de France's Grand Depart will pass through Knaresborough on 6 July.