River Ouse boat destroyed by fire in York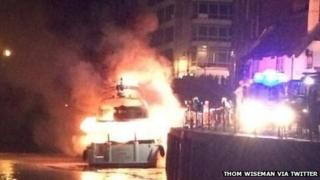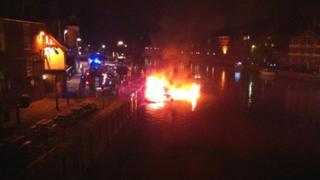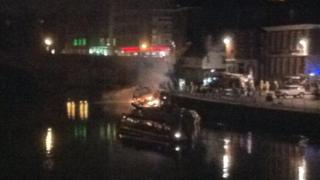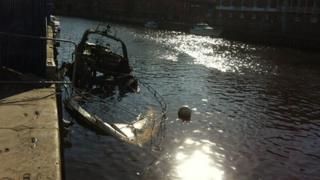 A boat was destroyed by fire which tore through the vessel on the River Ouse in York.
About 35 firefighters tackled the blaze on the motor cruiser which was moored near to the King's Arms on Kings Staith on Saturday night.
Riverside businesses and homes were evacuated whilst the fire was put out.
Police said the blaze was not thought to be suspicious and no-one was hurt. The fire service said investigations into the cause were under way.
Emergency services were called to the fire just after 19:30 BST.
The fire service said it was believed to have started in a crew compartment and the boat was completely destroyed.
Graham Buckle, from North Yorkshire Fire and Rescue Service, said properties were evacuated because of the "smoke hazard".
"Because the boat's made of fibre glass as well as the diesel tanks, there was a lot of thick black acrid smoke given off and the wind was blowing it on to the riverside properties and the Ouse bridge.
"So we asked the police to evacuate those premises because of the smoke hazard."