Lendal Bridge vehicle ban 'improves' York traffic flow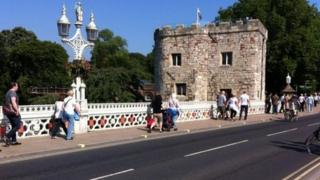 A vehicle ban on a bridge in York has improved traffic flows in parts of the city, the council has claimed.
Private vehicles were banned on Lendal Bridge between 10:30 and 17:00 from 27 August for a six-month period.
The council said traffic had "responded well" to the closure, which is aimed at cutting congestion in the city centre.
The North Yorkshire branch of the Federation of Small Businesses had warned the ban would not reduce traffic levels.
The Labour-run authority said early results had shown a drop in the volume of traffic on several key routes, such as Leeman Road and the A1237.
It also claimed flows on Gillygate, Clarence Street and Lord Mayors Walk had improved.
The council admitted volumes had increased on other routes, including Foss Islands Road and Clifton Bridge.
A spokesman said following public feedback, further signs notifying motorists of the Lendal Bridge restrictions would be installed on routes leading into the city.
Further statistics, including any improvements in bus journey times and reliability, will be published by the council in October.