Repairs for leaking flood defences in Malton and Norton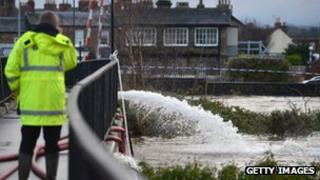 Flood defences which began to leak after heavy rain in North Yorkshire are to be repaired.
The Environment Agency said the work on two sections of flood walls in Malton and Norton would reduce any "future disruption" during a flood.
The defences, which protect more than 300 properties, were not breached in November 2012 but high water levels caused some leaks to appear.
The repair work is expected to be completed by the end of October.
The Environment Agency said the work was part of its £80,000 annual maintenance of defences in the River Derwent catchment.
The £9m Malton, Norton and Old Malton flood alleviation scheme was built following heavy flooding in 2000 and was completed in July 2003.