York Hospital ends antenatal classes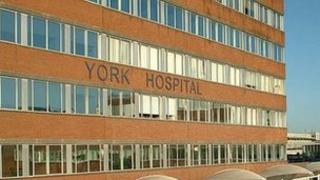 York Hospital has confirmed it will no longer offer most pregnant women face-to-face antenatal classes.
The York Teaching Hospital NHS Foundation Trust said online classes would be launched in October with in-person classes phased out by December.
The National Childbirth Trust (NCT) said the changes could put parents at a "real disadvantage".
York Hospital believes it is the first in England to abandon the traditional group antenatal classes.
It said only 25% of women offered ante-natal classes were taking them up and claimed the new scheme was not about saving money but was better suited to women's lives.
'More convenient'
The health trust said women would be able to take the "virtual" classes from the moment they knew they were pregnant.
Chris Foster, midwife supervisor at the hospital, said: "We felt the traditional model was working less well because of women's lifestyles these days.
"They do work longer, often up until a few weeks before the birth, and women need to access information at a time that is convenient to them.
"Having classes at a set point in the day meant women had to attend or miss that class. Now they can access that information at any time."
The NCT said it was "disappointed" by the trust's decision.
Elizabeth Duff, policy adviser at the NCT, said: "There is currently no evidence to show that online antenatal courses can substitute adequately for those that enable dialogue and group work, so replacing the courses with an online service could put parents at a real disadvantage."
She said the trust understood attending classes could be difficult for some parents but courses should cater to the needs of parents rather than be stopped altogether.
Miss Foster said women would still have full access to midwives for advice, and face-to-face classes would continue for groups such as teenage mothers and women expecting more than one baby.