North Yorkshire Police to get new headquarters in Thirsk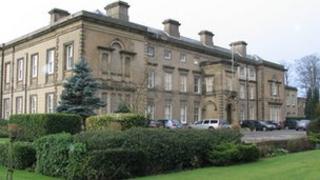 North Yorkshire's police force is to move out of its Grade II-listed headquarters and into a new multimillion-pound building.
Newby Wiske Hall in Northallerton is to be sold off and a new headquarters will be built in the Thirsk area.
The force said the cost of the new building was expected to top £18m.
Proceeds from the sale of Newby Wiske Hall, reserves and a "small amount" of borrowing will fund the plan, a spokesman said.
The force said it could not yet say how much borrowing would be needed or which sites in Thirsk were being considered for the build.
'Not sustainable'
Julia Mulligan, police and crime commissioner, said funds for the project would not come from the same budget as police officers.
"I am committed to protecting our frontline police officers," she said.
"But without investing in our estate we will not be able to support them as effectively as we know we can.
"This decision wouldn't even be on the table if there wasn't a clear operational reason for it.
"Policing services will improve because of better support, more reliable infrastructure and better use of technology."
Chief Constable Dave Jones said the move made "long-term operational and financial sense", as the annual cost of maintaining Newby Wiske Hall was more than £1m and "simply not sustainable".