North York Moors potash mine plans put back a year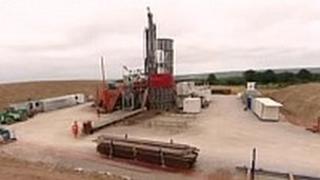 Plans for a potash mine in the North York Moors national park have been delayed by at least a year.
Sirius Minerals wants to build the mine near Whitby and connect it by pipeline to a new port on Teesside.
It has announced that a full assessment of the project's environmental impact will not be ready until July 2014 - a year later than its original plans.
National park bosses said the delay meant their bill for employing planning consultants could now rocket to £1m.
The national park authority said that even if Sirius presented its environmental statement next July a decision on whether to grant permission might not be made until December 2014.
'Very disappointing'
Sirius had been due to present its proposals to the national park authority in July this year but asked for the matter to be deferred to give it more time to address "environmental queries".
It has now decided to widen the scope of its environmental impact assessment to cover all four key elements of the project - the mine, pipeline, materials handling plant and port.
It had earlier focused only on an environmental statement for the mine and the pipeline.
Sirius chief executive Chris Fraser said the latest delay to the project was "obviously very disappointing".
"I know that our many supporters will welcome this revised approach that delivers greater certainty and leaves little room for debate over the high level of environmental standards that we are adopting," he said.
"Our confidence in the development of the York Potash project... continues to strengthen."
Chris France, director of planning at the North York Moors National Park Authority, said: "We are pleased they have finally accepted our advice that their approach was fundamentally and legally flawed.
"They were separating the project into different sections but planning law says the environmental impact of a large project like this must be considered as one."
He said the process so far had cost the national park £500,000 in payments to consultants and staff time.
"We've had to dig into our reserves to pay for that and now we're looking at the same figure again when our entire budget is only £5m a year."
He said the authority had asked for central government funding to help meet what it deems to be "extraordinary expenditure" but had so far met with "a big silence".
"We're very concerned about it," he said.