Shop owners help clean 'scruffy' Scarborough streets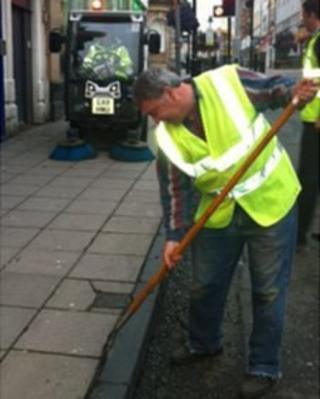 Shop owners have helped clean the streets of Scarborough town centre after it was criticised for being "scruffy".
About 20 traders joined council workers in clearing weeds, cigarette butts and litter from outside their shop fronts.
Further clean-ups, organised by Scarborough Borough Council and the local chamber of trade, are planned for the remaining Thursdays in September.
The council said everybody should help keep the streets clean.
Investment manager Nick Taylor said: "We have lots of council operatives out doing their regular stuff but it is also about the other stuff that owners of buildings should be looking after more thoroughly.
"The goal is really to raise awareness that it isn't just the council's responsibility to keep the town clean."
The council has provided equipment for the clean-ups, which take place between 07:00 and 08:00 BST.