Anne Bury's family 'cannot comprehend' Turkey shootings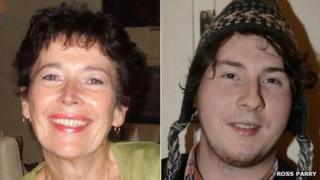 The family of a British woman shot dead in Turkey have said they "cannot comprehend the mentality" of the man who killed her and injured her son and mother.
Anne Bury, 56, from North Yorkshire, was killed in the shooting at the resort of Dalyan on Monday.
A 46-year-old man, understood to be the family's gardener, has appeared in court and been detained in prison.
Alex Bury remains in a Turkish hospital with gunshot wounds to his leg.
In a statement, the family said: "We would like to thank everyone for their warm wishes and condolences at this very sad time.
"Although our family are still deeply shocked and grieving for Anne, we are pleased to say that both Anne's mother and son are recovering from their injuries and have both been given wonderful care, treatment and support by hospital and consulate staff and many other local people."
BBC reporter Dan Johnson said he had spoken to Ms Bury's son who remains in hospital in Mugla.
He said he had a "serious injury" to his leg and was due to undergo further surgery.
Ms Bury's mother, Cecilia Bury, from Middlesbrough, was also injured but has since been discharged from hospital.
The Turkish Ministry of Culture and Tourism confirmed the relevant authorities were investigating.
According to reports, the family were shot while celebrating Anne Bury's birthday at a villa in the resort on Turkey's south coast.
There are unconfirmed reports there had been a "heated argument" between the gardener and the family in the days before the shooting.
Ms Bury is believed to have reported the argument to the Turkish police.
It is understood Ms Bury, who was working in a health care role for an oil company in Dubai, had lived in Swainby with her son for more than 10 years.
She had trained as a midwife and also worked as a barrister specialising in health and social care.
Former employer Mark Solon, managing director of legal training firm Bond Solon, said: "She was an unusual but remarkable woman in that she was a barrister as well as being a state certified midwife and a state registered nurse and was all the better for it."
Ms Bury's son worked at a local hotel, the Cleveland Tontine, after taking a year out of university but was hoping to restart his studies in medicine.
Father Paul Farrer, director of Middlesbrough Diocesan Lourdes Pilgrimage, said Mr Bury had been a regular pilgrim and would spend a lot of his summer holidays helping other people.
He said: "To happen to such a lovely person is really shocking, I have known him for 10 years since he was a kid."
The Foreign Office said it was providing consular help to the family.