Kirkbymoorside houses approved after voting 'error'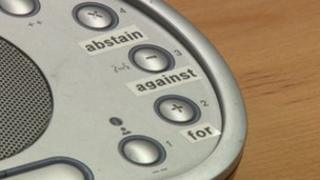 A 260-home development has been given the go-ahead after a councillor who opposed the plan "pressed the wrong button" on an electronic voting system.
Ryedale District Councillor David Cussons said he had made an error when he voted in favour of an application to build on land near Kirkbymoorside.
The scheme allows for up to for 210 houses and 50 apartments to be built near the North Yorkshire town.
Town mayor Chris Dowie said she was "furious" with Mr Cussons' "mistake".
She said: "I'm furious that this application has gone through as a result of what would seem to be a mistake and that this beautiful part of Ryedale, just outside our town, is going to be built on."
Mr Cussons, who represents the Kirkbymoorside ward, said the proposed development would "stick out like a sore thumb" and take away "wonderful land" from the town, during a planning meeting last month.
'Sorry and disappointed'
At the same meeting he put forward a motion to refuse approval - but then voted against his own motion.
Mr Cussons has since admitted his mistake but has not been available for further comment.
Speaking to the Ryedale Gazette and Herald, he said: "I pressed the wrong button, that's all that went wrong and I would rather it hadn't happened. I am disappointed really, I am sorry that's what happened."
Ryedale District Council told the BBC the decision could not be overturned without it making a revocation order, which could give rise to a costly compensation payment, or by a third party applying for a judicial review.
An initial application submitted by Gladmans Developments was originally opposed by council planning officers and councillors voted against its approval in June.
'No objection'
In a recording of the meeting Mr Cussons can be heard saying: "The speakers that have come have spoken very well and all I want to do now is move on and take the officer's recommendation, which is refusal, and I will move refusal."
Gladmans lodged an appeal against the decision, which had been due to be the subject of a public inquiry on 3 September.
However, the inquiry was cancelled after a second application was submitted and approved by Ryedale council's planning committee in August.
At the meeting two members, including Mr Cussons, voted in favour of the application, two voted against, and six members abstained. The committee chairman used his casting vote to break the deadlock and vote in favour of the application.
A spokesperson for Ryedale District Council said: "It should also be noted that the planning committee meeting on 4 June, 2013, raised no fundamental objection in principle to the first planning application submitted by Gladmans.
"Officers at the committee stressed to members that the principle of the development was not considered to be at odds with national policy or locally adopted and emerging plan policies.
"Against that background it was highly likely that the inspector would have allowed the appeal."