Scarborough Council to invest £10m in water park plan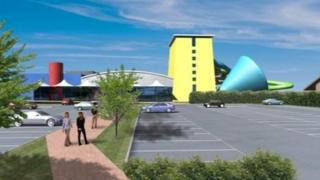 A £15m water park is likely to go ahead after councillors decided by one vote to invest £10m in the scheme.
The attraction in Scarborough's North Bay had been put on hold by developer Benchmark Leisure in 2009 because of the economic downturn.
The Conservative-controlled council said the water park, which could open in 2015, would attract visitors and jobs to the town.
The council's Labour group leader said the decision was "too high a risk".
Councillors voted 23 to 22 in favour of the scheme.
'Fine tightrope'
Council leader Tom Fox said: "If the whole scheme ends up being developed then that is massive for the borough, for its visitor economy and for jobs."
Mr Fox said conditions would be imposed that the developer must meet before the council would release any money.
"There are risks for the council and developer, but if he comes up with the goods then it will happen," he said.
However the Labour group leader, Eric Broadbent, said: "The leader of the council has not got the full backing of the whole council. I feel the risk is too high.
"I don't think the leader can claim a victory. I think he is walking a very fine tightrope."
Benchmark Leisure declined to comment on the council's decision.
The water park will include indoor and outdoor swimming pools, water rides and flumes, a spa and a car park. It was granted planning consent in 2012.