Snape farm's huge barn blaze kills 101 cattle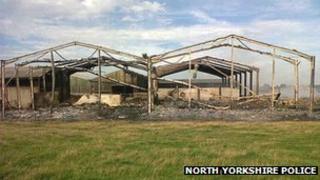 More than 100 cattle have died in a large fire at a farm in North Yorkshire.
Two barns, about 4,000 bales of straw and 1,000 tonnes of silage were also destroyed in the fire, in Snape.
Firefighters were called to the fire near Bedale, at about 04:20 GMT on Tuesday.
A joint investigation by the fire service and police has been launched to discover the cause of the blaze.
Insp Geoff Crocker, of North Yorkshire Police, said: "We must stress that the cause of the fire remains unexplained at this time.
"To assist the investigation, we are appealing for anyone who has any information which could help officers establish how it happened."