Closure of Northallerton prison a 'disaster' for town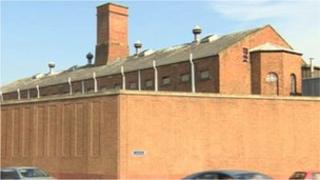 The closure of Northallerton Prison with the loss of 135 jobs will be a disaster, the town's mayor has claimed.
The jail will close by the end of the year as part of a Ministry of Justice (MoJ) modernisation programme.
It comes a month after it was confirmed the town's Rural Payments Agency office would close with 350 jobs being relocated.
Mayor John Forrest said the loss of further public sector jobs was very "demoralising".
He added: "We are just losing all the jobs. We are building houses but what are we building houses for? There are going to be no jobs for people here.
"I am absolutely gutted at the way they are treating our town. It is demoralising."
Mr Forrest said the closure would have a severe impact on the town's economy.
"It will affect most of the retailers in the town. Some do supply the prison and its staff. This just came out of the blue and it will be a great loss," he said.
'Massive blow'
Northallerton prison was built in 1783 and houses up to 252 inmates, comprising adult and young offenders.
It and three other jails are being closed because the MoJ said they were either too expensive to run or needed substantial capital investment.
Glyn Travis, from the Prison Officers Association, said: "Staff are completely devastated. They cannot believe that their lives, their family's lives and the lives of prisoners and offenders are going to completely destroyed.
"The closure of Northallerton will devastate this community. It is a massive blow."
Prisons Minister Jeremy Wright said: "We will manage the process of closure as sensitively as we possibly can. But whatever we do it will have an impact and I regret that."