York Lendal Bridge car ban offenders avoid fines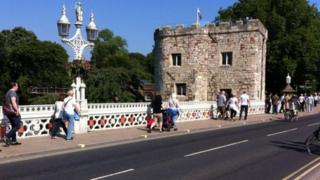 Motorists who flouted a new ban on vehicles on a main route into York during its first week will not be fined, the city council has announced.
A six-month trial ban on cars, lorries and motorbikes crossing Lendal Bridge between 10:30 and 17:00 began last Tuesday to ease congestion.
New signs warning of the ban have been put up after there were complaints that initial signage was inadequate.
The council said £60 fines would be issued from Wednesday.
On the first day of the ban a BBC Radio York reporter witnessed 56 vehicles being driven across it within a 15-minute period.
'Grace period'
The council said the scheme and its signage fully complied with regulations but it had put up more signs on key routes into the city to increase awareness of the ban.
Darren Richardson, director of city and environmental services, said: "We strongly urge drivers to continue to be aware of the signage in place and comply with this accordingly.
"We have said from the outset that the purpose of the Lendal Bridge trial is not to generate revenue, but to reduce traffic going over the bridge and through the city centre, as part of a long-term vision to create a more attractive and thriving city centre for us all.
"We have communicated its implementation in advance through many channels. However, this grace period of one week has provided us the opportunity to observe the restrictions in place and to undertake additional publicity to further help residents, businesses and visitors comply with the restrictions.
"It is also important to stress at this point that any future income generated from penalty charge notices will be invested back into the city's highway infrastructure."