North Yorkshire housing fraud crackdown launched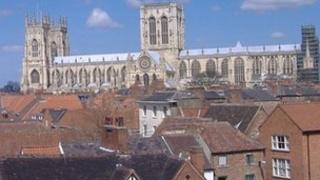 Social housing providers in North Yorkshire have joined together in an "anti-housing fraud alliance".
City of York Council said the partners would share information to help with "identifying and prosecuting people who lie about their circumstances in order to obtain a property".
Members of the public are being encouraged to report suspected fraud.
Tenants found guilty of fraud will be banned from renting social housing in the future.
The initiative will be looking for people who sublet their properties or provide false documents to obtain housing.
'Desperately needed'
The Labour-run council said there were 14,500 people or families waiting for social housing in the North Yorkshire area, with over 1,000 applicants in the category of urgent need.
Councillor Tracey Simpson-Laing, City of York Council's cabinet member for housing, said the initiative was in response to increased pressures on social housing.
She said: "Thousands of affordable homes are desperately needed in the region by people in difficult circumstances and we want all our housing stock used by eligible people, not fraudsters."
Ms Simpson-Laing said placing a family in temporary accommodation, due to a lack of social housing, could cost the council up to £18,000 a year.