York Lendal Bridge car ban trial begins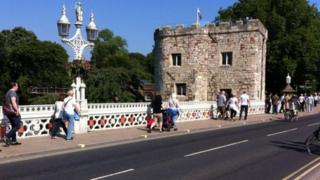 Cars, lorries and motorbikes have been banned from one of the main routes into the centre of York during working hours in a six-month trial.
The trial means only buses and taxis can cross Lendal Bridge between 10:30 and 17:00 in a bid to ease congestion.
But the Federation of Small Businesses has warned the closure will cause traffic problems elsewhere in York.
A decision on whether the closure should be permanent will be made after the trial, City of York Council said.
'Affect businesses'
James Alexander, leader of the Labour-controlled council, said while the closure was a "tough decision" it would improve people's experience of the city.
"I hope it achieves greater bus reliability and I'd like to see it more attractive along the bridge so everyone can get a fitting introduction to the view there.
"We should try this, see what happens and then make some decisions based on the evidence."
But Simon Williams, chairman of the North Yorkshire branch of the Federation of Small Businesses, said the bridge closure would not reduce traffic levels in York.
"We're still going to get congestion, we're just moving it to different areas of the city.
"It's also going to affect businesses in that people may say they're not going to come to York as it's too difficult."
Traffic in York will be "actively managed" during the trial to ease movement and respond to incidents, the council said.
The results of the trial will be analysed by independent assessors from Leeds University's Institute of Transport Studies.