Finghall village struck by plague of flies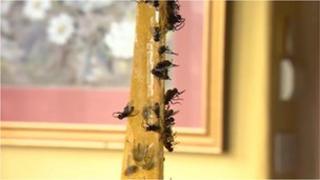 An invasion of flies in a village in North Yorkshire has prompted an inquiry by environmental health officers.
Families say the infestation of Finghall is a health hazard and shops are running out of fly paper.
Resident Fleur Butler said the problem had arisen in previous years, but it was worse than ever this year and "frankly disgusting".
To try to identify the problem, council officers have been to two poultry farms and sent insects for tests.
'Constantly wipe walls'
Mrs Butler said: "This is the worst I can remember since we moved into the village in 2007 and it's frankly disgusting.
"We disinfect the surfaces, we wash the floor, you constantly wipe down the walls and I know I will have to redecorate my kitchen.
"Every time somebody gets a cough you think is it a disease that the flies have spread."
One holidaymaker staying in the village told the BBC: "We're swatting flies as fast as we can but as fast as we swat them they come back in."
Tony Clark, from Richmondshire District Council, said: "Our officers have taken samples of the flies that have been collected over recent weeks.
"Those flies have been sent off to a special laboratory to be analysed, after which we will be able to identify hopefully the source of where these flies have come from and then be able to act on that."
The council said it would use all of its powers of enforcement to deal with the issue.