Wintringham church arsonist carried out 'abhorrent' attack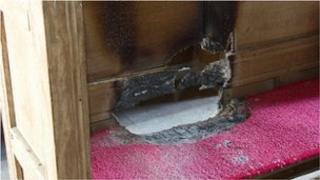 Actions of a vandal who set fire to parts of a church, put swear words in a prayer book and defecated in the vestry were "abhorrent and disgraceful".
The four fires did not spread but a Jacobean pew and kneeler cushion were damaged, at St Peter's Church in Wintringham, near Malton.
North Yorkshire Police urged anyone with information to come forward.
PC Katie Shaw said it was "beyond belief why anyone would do such a thing and what they stood to gain from it".
She said: "The church is in a rural and isolated location but is open to members of the public to enjoy.
"This incident [which happened last Wednesday] is a particularly abhorrent and disgraceful attack on a building which has stood for hundreds of years."