Liam Matthew Wyard jailed for life for York bus stop murder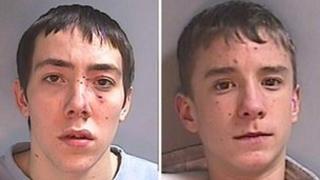 A man has been jailed for life for the murder of a man who was attacked for "no apparent reason" at a bus stop.
David Keith Wright, 50, was set upon while waiting for a bus on Acomb Road, York, in January. He died later in hospital.
Liam Matthew Wyard, 20, of Acomb Road was sentenced to life at Leeds Crown Court with a minimum term of 12 years.
Aaron Wooton, 17, of York, was convicted of manslaughter and sentenced to three years.
'Brutal and unprovoked'
Mr Wright was left with serious brain injuries, after Wyard punched him to the ground, and kicked him in the head as he lay unconscious during a sustained attack on 21 January.
Wooton, who had been drinking with Wyard that evening, joined in the attack on Mr Wright, police said.
Mr Wright did not regain consciousness and died 10 days later in Leeds General Infirmary.
Det Sgt Steve Wilson said: "Mr Wright died as a result of a brutal and unprovoked attack.
"He was minding his own business while waiting at a bus stop when Wyard and Wootton, who did not know him, attacked him for no apparent reason."