Barratt heirs rethink selling Farndale tenants' homes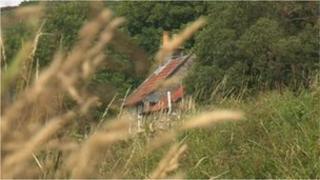 Some tenants on the North York Moors have been told they no longer face eviction in order for their homes to be sold to fund an inheritance tax bill.
The sons of Sir Lawrence Barratt had decided to sell 13 properties in Farndale after the housebuilding millionaire died last December.
Now the family have decided to only sell four of the occupied homes.
The estate agent said "other options" to meet inheritance tax were being explored.
Sir Lawrence Barratt, the founder of Barratt Developments, bought the Farndale estate in 1981.
The estate agent acting for his sons, Strutt and Parker, said after a rethink only four of the occupied homes in Farndale would now be sold.
Nicky Hollins, who has a 10-year-old daughter, is one of the tenants still facing eviction.
Her home has been sold and she needs to leave the property by mid-October.
She said: "I grew up on a council estate in Hull. I brought my daughter here, as a single mother, because I wanted her to live somewhere that was safe, that had nature and had a community.
"This is her home, her life and her community and we have to leave. I am absolutely devastated. We've got nowhere to go."