Costa Beck restocked in grayling boost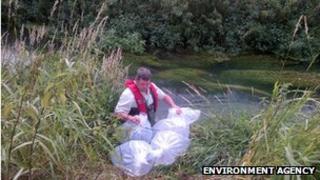 Part of a North Yorkshire river has been restocked with 1,000 grayling to help the fish population recover from past pollution.
The fish were released in the Oxfolds stretch of Costa Beck near Pickering. They were grown from eggs hatched at the Environment Agency's fish farm.
The fish have been grown for four months before being put in the river.
An agency spokesperson said the move was about improving the habitat "for all wildlife" at Costa Beck.
The stocking is to boost the natural grayling population so it becomes self-sustaining.
The agency said the fish populations at the site had been affected in the past by a number of factors "including siltation and pollution".
Each year the agency's fish farm in Nottinghamshire rears about 500,000 fish for release.