Rural Payment Agency move a 'blow' for Northallerton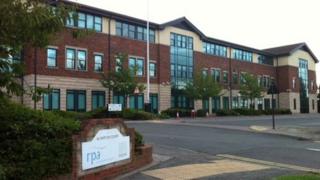 Plans to move 350 public sector jobs out of Northallerton have been described as an "absolute blow" by the town's mayor.
The Rural Payments Agency announced on Monday it intended to transfer the jobs to York and Newcastle.
Mayor John Forrest said the move, coupled with other recent job losses in the county, would be "detrimental" to businesses in the town.
The agency has said it would work hard to "ensure a smooth transition".
Speaking to BBC Radio York, Mr Forrest said: "It's an absolute blow to Northallerton.
"We're absolutely gutted on the council to receive this information.
"The businesses will feel it. Without those people going to the town during the day the retailers are really going to find it hard."
'Clock ticking'
He said he planned to write to William Hague, the MP for Richmond.
"We're going to ask him 'why are they moving out of the town?'," he said.
Peter Wilkinson, deputy leader of Hambleton District Council, said the agency's announcement to leave Alverton Court had come as a "shock".
He added: "My understanding is the building will be occupied until February so we've got five months to work with interested parties to look at what we can achieve for the use of the building and employment, but the clock is ticking."
The RPA administers £2bn of Common Agriculture Policy cash paid annually to farmers.
It said: "This decision has not been made lightly and we are working hard to provide as much clarity and certainty to those impacted.
"All our people who are prepared to work flexibly have been guaranteed a job and all posts will remain in the region."