North Yorkshire County Council to review drug and alcohol services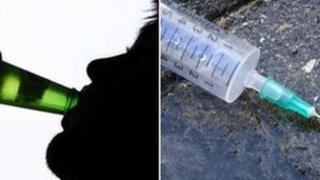 Plans to streamline drug and alcohol services in North Yorkshire in a £4.28m restructuring of substance abuse facilities will be discussed later.
A report due to go before North Yorkshire County Council recommends creating a county-wide service to help addicts recover and cut waiting times.
At present 13 services are delivered by nine different organisations.
The council took over service provision from North Yorkshire and York Primary Care Trust in March.
Funding for the proposed scheme would be met from the council's ring-fenced public health grant and by North Yorkshire Police and the North Yorkshire Police and Crime Commissioner.
The report says that currently services for addicts are not "systematically distributed equally" due to the size of North Yorkshire.
It also says that help for alcoholics is taking too long, with the number of people waiting more than three weeks to start treatment "well above the national average".
Reconfiguration will also allow the council to modernise its treatment system, meet legal obligations and provide a "more personalised and accessible service", the report says.
If approved the council will look for organisations to tender for the contract, which will then begin in May 2014.