Allerton Park waste incinerator planning decision 'right'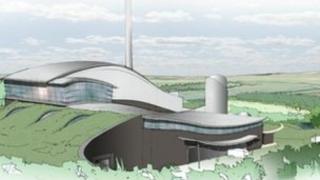 Campaigners opposed to a waste incinerator in North Yorkshire have failed in their High Court bid to get planning permission overturned.
A judge ruled the county council was right to give the go-ahead for the incinerator at Allerton Park, near Knaresborough, last October.
The council said it was "pleased" the planning process was "vindicated by the judge".
North Yorkshire Waste Action Group said it was "very disappointed".
The proposal was developed by the Conservative-run county council and Labour-controlled City of York Council to reduce the amount of household waste being sent to landfill.
The Department for Environment Food and Rural Affairs (Defra) had provisionally allocated private finance initiative (PFI) credits to North Yorkshire in 2007, but withdrew them in February as it said the scheme was no longer needed to meet EU waste targets.
'Further legal steps'
The county council has claimed Defra did not make that decision in the "proper manner" and is seeking a judicial review.
His Honour Judge Gosnell made his judgement following a two-day hearing in Leeds at the end of last month.
Bob Schofield, of North Yorkshire Waste Action Group, said: "It is important to understand the judgment doesn't mean the courts think the incinerator is a good idea - rather it does not agree that aspects of the planning process were flawed.
"We will be reviewing the judgment with our advisers to explore whether there are further legal steps we can take."
County councillor Gareth Dadd said: "I am pleased that the planning process has been vindicated by the judge and that he has ruled that the planning and regulatory functions committee was right to grant planning permission for the development.
"The technologies included in the development will enable us to move away from land filling our waste to a sustainable long-term solution which generates green electricity."
The two local authorities have already spent more than £6m on the Allerton Park scheme.