'Organised criminals' jailed for £1.28m Defra fraud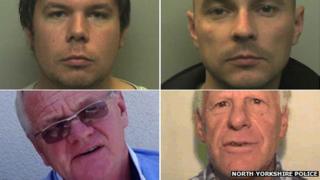 Four men in an "organised crime group" have been jailed after a government department was defrauded out of £1.28m.
The money was taken from the Department for Environment, Food and Rural Affairs (Defra) in York in 2010.
North Yorkshire Police said the gang, based in Stoke-on-Trent and Portugal, used the cash to buy cars and gold.
The four were sentenced at Leeds Crown Court on Thursday after admitting money-laundering. Three other men will be sentenced at a later date.
Paul Edwards, 30, of Wenlock Close, Newcastle-under-Lyme, was jailed for three years and three months
Paul Tinsley, 37, of Railway Street, Stoke-on-Trent, was jailed for two years and two months
Thomas Cottam, 54, of Warren Drive, Deganwy, north Wales, was given 21 months in prison
Robert Cann, 70, of Dunham Rise, Altrincham, Greater Manchester, was sentenced to 15 months in prison
Luxury cars
Det Insp Ian Wills of North Yorkshire Police's financial investigation unit said: "This was a sophisticated attack on the Defra payments system.
"The proceeds funded the purchase of high-end luxury cars and £830,000 worth of gold.
"The four men sentenced... were not the controlling minds behind the fraud but they each played their role in the conspiracy to launder £1.28m of public money."
Police said the money was stolen in March and April 2010, when details of a payee account on Defra's database were altered and money was diverted into the account of a bogus company set up by the gang, called Lorcan Steels Limited.
All the money had left the account within two months, with some of it transferred out of the UK's jurisdiction into the account of a company based in Portugal.
North Yorkshire Police said it was "not possible to prove who was responsible for the alteration of the database", but the authorities were able to convict the men who laundered the money.
Thomas Joseph Corridan, 51, of Loule, Portugal, was found guilty of money-laundering on 11 July and will be sentenced next week.
Michael William Bostock, 39, of Stafford, and Michael Ian Davies, 48, of Stone, pleaded guilty to money-laundering in May and will be sentenced in the autumn.
They are both currently serving prison sentences for a previous offence of defrauding Her Majesty's Revenue and Customs (HMRC).