York Minster to auction off stonework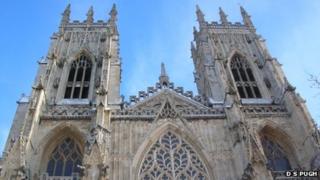 Stonework removed from York Minster during ongoing restoration work is set to go under the hammer.
The masonry is being auctioned to help raise funds for the continuing conservation programme.
Potential buyers will be able to preview the masonry on 15 August ahead of the sale the following day.
An open day at the minster's stoneyard, taking place on Friday, gives people an opportunity to learn about the craftsmen working at the cathedral.
The stones being sold have all been removed during restoration projects, when stones which have decayed or are structurally unsound need to be replaced.
York Minster's master mason John David, said the auction would give people a "unique chance" to own their own piece of the minster.
"Complete stones removed during these works are recorded in the minster's archive records, with a large number of pieces retained by the minster due to their significance in the archaeological history of the building," he said.
"We can't store every stone removed from the building, so the surplus will go on sale at the auction to help raise funds to support ongoing conservation works on the minster."
The auction will be held on 16 August in Dean's Park, York.