Barratt heirs selling Farndale tenants' homes to pay tax bill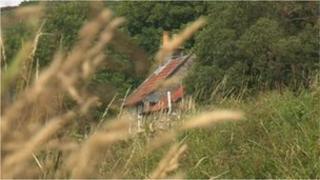 Tenants in part of the North York Moors are facing eviction after the estate owners revealed plans to sell off their homes to fund an inheritance tax bill.
The sons of housebuilding millionaire Sir Lawrence Barratt have decided to sell 13 homes in Farndale with "great regret", their estate agent said.
Sir Lawrence, the founder of Barratt Developments, died in December aged 85.
Tenants of the properties being sold have been told they must move within two months of offers being received.
They are being offered a 50% reduction in their rent payments in the meantime and some are also being offered the chance to buy the properties themselves before they are put on the open market.
'Upsetting news'
The Barratt family bought the Farndale estate in 1981.
The area has a population of just 200 and the tenants are worried they might not be able to find alternative homes in the area if they are evicted.
George Loggie, who has run a cafe in Farndale for 14 years, said he felt "numb" and "shocked" when he received a letter informing him of the sale of his home.
He said: "I suppose I would hope that somebody might just come along and say 'I'll buy it and then you carry on as you are', which would be a brilliant scenario, but whether that will happen I don't know.
"I doubt if I could get a mortgage at my age. I am in my 60s so it's quite difficult really."
In a letter to the tenants, estate agent Strutt and Parker said: "I appreciate that this will be very upsetting and disruptive news for you and although it will be of little solace I can assure you that it is not a decision that has been taken lightly."