Ripon cathedral uses incense to 'ward off' pigeons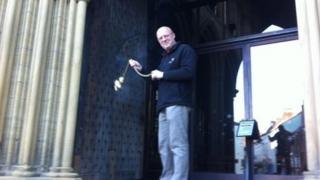 Incense is being burnt in a cathedral in North Yorkshire to try and stop a pair of pigeons from nesting there.
Ripon Cathedral said the wood pigeons had tried to create a nest above the medieval doors at the west front of the building.
Staff said the birds were dropping sticks on the floor and creating a mess.
They said on days incense was being used in the building they had noticed the pigeons stayed away.
Head verger Andrew Aspland said: "Every day they brought a sack full of sticks in and every day they were disappointed when they all fell off especially when we shut the doors at night.
"A couple of days one week we noticed the pigeons had gone but then they returned. Then I thought what day was it? I realised it was St Peter's Day and the day before when we had used incense at the services.
"I put two and two together and the following week got some incense out, started burning it and wafted it around the porch and we haven't seen the pigeons since."