Catterick Garrison £25m 'town centre' gets go-ahead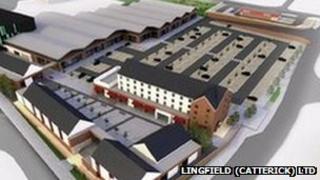 Plans for a £25m "town centre" development at the heart of one of England's largest army bases have been given the go-ahead by councillors.
The scheme, at Gough Road in Catterick Garrison, North Yorkshire, will include a 60-bed hotel, shops and a cinema.
Developers Lingfield (Catterick) Ltd were granted planning permission by Richmondshire District Council subject to certain conditions.
The development is expected to create the equivalent of 700 full-time jobs.
'Significant boost'
Catterick Garrison comprises several separate barracks, around which a town has grown.
All infantry soldiers in the British Army receive their basic and advanced training at the base, which has a population of about 18,000.
The development, a joint venture between Kier Property and Lingfield Securities, would provide a "significant boost" to the local economy through regeneration and new job opportunities, a report to councillors said.
The plan also includes restaurants, a new town square, pedestrian areas and 383 car parking spaces.
Permission was granted to the developers subject to several conditions, including the construction of an electronic information point and provision for recycling facilities on the site.