Malton hospital injuries unit reopens at weekends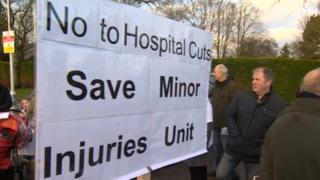 A hospital minor injuries unit that had its hours cut seven months ago has opened to patients at weekends again.
More than 10,000 people signed a petition when opening hours of the unit at Malton hospital in North Yorkshire were reduced in December.
The unit began treating patients again on Saturday morning.
The decision was reviewed by the Scarborough and Ryedale Clinical Commissioning Group (CCG), which took over health services in April.
The unit used to be open from 08:00 to 21:30 before the decision to close at evenings and weekends was made by NHS North Yorkshire and York, as it tried to reduce its budget deficit.
Simon Cox, chief officer for NHS Scarborough and Ryedale CCG, said: "I am pleased that we have been able to come to a decision that responds to the needs of local patients whilst still enabling us to make important savings by closing the minor Injuries Unit (MIU) during the evening.
"As a CCG which has made clear its intentions to give people the opportunity to shape local services, I think this process has demonstrated our commitment to listening to peoples' views and ensuring they form part of our decision making process.
"I'd like to thank anyone who has taken the time to share their views about the MIU.
"An important issue that was highlighted during the consultation was that many people are unsure of what the MIU is actually able to treat.
"I'd like to reiterate that the MIU is not the same as an A&E department and is designed to treat only minor injuries and ailments such as cuts, sprains and minor burns."