York-based CPP secures 725 UK jobs in bank deal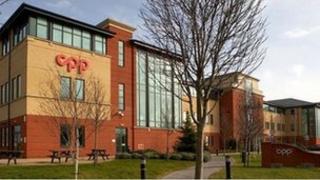 A credit card insurer, fined a record £10.5m for mis-selling insurance, has been handed a £36m lifeline, saving more than 700 UK jobs.
CPP, which sells card protection for several major lenders, said the banks had agreed a three-year funding package meaning it could avoid collapse.
Last year, the York-based group was fined £10.5m by the Financial Services Authority for "widespread" mis-selling.
CPP employs over 1,100 staff, including 725 UK staff, of which 560 are in York.
In 2012, regulators criticised CPP for treating customers unfairly, selling them insurance they did not need, automatically renewing policies and exaggerating the risks of not taking out its insurance.
The mis-selling scandal ran between 2005 and 2011, during which time CPP sold 4.4m policies and renewed almost 19m.
Of the 4.4m policies, it is believed only about 300,000 were sold directly by CPP, while banks were responsible for 4.1m.
'Significant milestone'
The company is currently working with lenders and regulators to create a compensation pot for customers.
It is thought that pot will total several hundred million pounds, with the banks likely to contribute the bulk of this.
CPP recently set aside £51.7m to cover the fine, customer compensation and other costs - but warned this figure could rise further.
In April, the company agreed to sell its US arm to help stave off creditors.
Announcing the new deal, the group said its lenders - Barclays, RBS and Santander - had granted it a £13m credit facility, expiring in July 2016.
It said some of its banking business partners had also allowed it to defer an estimated £23m of commission due to them for the 12 months to June 2014, with payment delayed to 2017.
CPP said while it still faced big financial challenges, the funding package was a "significant milestone".
Charles Gregson, CPP chairman, said the new arrangements provided the company with "a much improved and more stable platform from which to move forward".