Scarborough's Futurist theatre closure decision upheld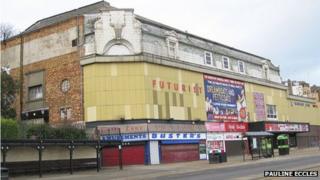 Plans to redevelop the site of Scarborough's Futurist theatre have been rubber stamped.
Scarborough Borough Council's cabinet agreed with a report stating the theatre's future was "unsustainable" on the site in Foreshore Road.
That decision was called-in by objectors who hoped to save the 92-year-old building from closure.
However, a scrutiny committee has now upheld the cabinet's decision to accept the report's conclusion.
The theatre still stages concerts, shows and films, but is within an area earmarked for redevelopment that includes the town hall.
Earlier this month the cabinet agreed to begin negotiations with current operators about keeping the Futurist open until the end of the year.
'Important site'
However, it recommended closing the theatre, which played host to The Beatles in 1963, if discussions fail or an alternative solution cannot be found.
Campaigners opposing the decision had hoped to set up a £3m restoration fund using money invested by the Homes and Communities Agency.
The council currently pays The Futurist's operator an annual subsidy of £80,000.
Councillor David Jeffels, chairman of the Health and Wellbeing Scrutiny Committee, said: "I welcomed the interest resulting from the call-in because it enabled the public to have their say on the future of the Futurist theatre and wider site.
"It is a very important site, not only occupying a prime area on the heart of the seafront, but with its links up the cliff to St Nicholas Street, it offers tremendous potential to create an iconic architectural and holiday industry asset to Scarborough.
"However, nothing is ruled in, and nothing ruled out. A theatre could form part of a future development along with a number of other opportunities for the leisure, holiday and retail market."