North Yorkshire community bus company goes into liquidation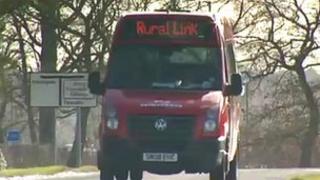 A local council has taken over the running of a number of bus routes after a community transport charity went into liquidation.
Little Red Bus, based in Harrogate, said it could no longer afford to pay off a loan taken out in 2007.
The organisation was founded in 1986 and provided community transport services for rural areas in the county.
North Yorkshire County Council said it was "very sorry" that the company has had to take this action.
'Extremely sad'
In a statement on its website, Little Red Bus (LRB) blamed "a reduction in activity in operations over recent times due to the economic situation, which has removed the economies of scale and competitiveness on which the LRB operation has previously depended".
The company operated a combination of fixed routes and door-to-door "dial-a-ride" services in and around Harrogate, using minibuses with wheelchair access.
A spokesman for North Yorkshire County Council's integrated passenger transport service said: "The company provided a highly-valued service for many people living in the more remote parts of North Yorkshire, and it is extremely sad that it can no longer continue to function."
The county council said it was using its own vehicles to cover the fixed routes temporarily.