North Yorkshire chemical spill forces A1 closure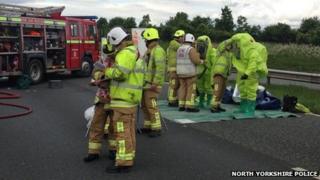 A chemical spill caused by a crash between two lorries forced the closure of part of the A1 in North Yorkshire.
Two heavy goods vehicles were in a collision on the northbound carriageway at 16:00 BST on Monday.
The road was closed for more than four hours between junction 47 at Flaxby and junction 48 at Boroughbridge. It had reopened in both directions by 21:00.
People living within two miles (3.2km) of the spillage were advised to stay inside and close windows and doors.
A police spokeswoman said: "The leaked chemical is a sodium hydroxide called Proxel and around 300 litres leaked from the lorry."
The leak was stemmed by 18:15 and another 100-150 gallons (500-700 litres) of the chemical was transferred to another vehicle.