Economic impact study over Ripon barracks closure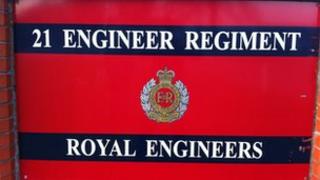 A £50,000 study is to look at the economic impact of the closure of a North Yorkshire army barracks.
Claro Barracks in Ripon will close by 2017, as part of a Ministry of Defence (MoD) shake-up.
It is currently home to more than 600 soldiers from 21 Engineer Regiment and has billeted troops since World War I.
The study, which is expected to take three months, will be jointly funded by Harrogate Borough Council and the Local Enterprise Partnership.
The local authority said it would also provide funding for a planning support officer to look at the best way of redeveloping the site.
Under MoD plans to accommodate troops returning to the UK from Germany 21 Engineer will move to Catterick Garrison in North Yorkshire.
Conservative Ripon councillor Alan Skidmore, deputy leader of Harrogate Borough Council, said he had now received assurances that married quarters in the city would be retained by the MOD.
He said: "The number of children and families won't drop as it is only the regiment that will move but that will still be a loss so we are going to use this money to study what we can do about the effects it will have on the local economy.
"We also have to look at what we can do to use the land and the buildings being vacated by the army."